Thanks to the influence of the internet and social media, the adult content industry has grown to become one of the biggest sub-industry under the entertainment industry. The industry has grown to be very professional and official, using industry-grade equipment and professionally trained actors.
This has brought a disconnect between the creators and the fans. Because of the nature of the entertainment, a huge part of the audience yearn for content that isn't so polished. The industry worldwide introduced "amateur" content which has been received extremely well across the world.
Stars from all over the world have divided into amateur content. Nude photography and videography fall under this category. To be successful in this industry, you need to know the right spaces where your content would be received. This post analyzes the best sites and spaces to improve your income.
Establish a Fanbase to sell to
Firstly, you must understand that the journey might be stressful and tasking. However, you might have heard of stars that went viral and could make a lot of money relatively quickly. You should know that the chances of you going viral aren't a lot.
The best approach to getting a successful online business is to pool a community of your own. Because of the nature of your business, you need to be careful about how you advertise your content.
You need to get your content out there in public before people can come to enjoy the totality of the content in private. The best way to gain a new audience and potential fans are to take your content to their social media timelines. Platforms like Snapchat and Instagram are incredible platforms to use as you grow as an entrepreneur. Below we explain the approach to each of these social media platforms.
When selling your dirty Snapchat nudes, branding your Snapchat username is vital since it may help you make hundreds of dollars extra. The difference between a little money and a lot of money for your Snapchat nudes might be determined by how well you treat your consumers.
It would be best to come up with a gorgeous and distinctive Snapchat username. It is something that your customers will remember, allowing them to return more often.
Through smart Snapchat branding and going out onto other platforms like Onlyfans, ManyVids, and working for the highest paying webcam sites, some Snapchat girls make upwards of $10,000 per month. You may add image sets of nasty Snapchat nudes to any of these locations.
Snapchat is good for many reasons. You can personally monitor the interested individuals in your content and milk them for added monetary bonuses.
You must be careful because Instagram has very strong policies against 18+ content. However, you can use Instagram as a marketing platform to pool followers onto another site where they can access your content for a price. So you should follow their regulations and use simple but suggestive language while pointing to the link in your bio.
The link could be a Linktree that has links to all your premium sites where they have access to all your content without any consequence. You can use this model for any social media platform with policies against adult content.
Consistency!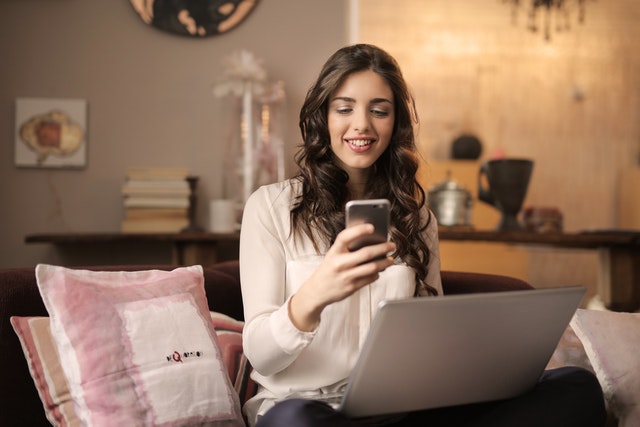 This is key for any establishment that pans to be relevant in the long term. This also applies to you. It would help if you kept the work going. Even when you have made a break and have a good number of followers, you have a steady income. It would be best if you recognized the volatility of the job. New actors and models are pushing for your audience daily. You need to be on your toes to keep the money coming.
Best Sites to Sell Your Nudes
There are many avenues to sell your nude images, each with its platform and compensation system. Before you pick a site, you'll need to consider whether you're selling individual images or sets of images and whether you'll have enough regular material to justify membership services.
Each company model has advantages and disadvantages, and you may opt to provide a mix. It's possible to do both. However, keep in mind that if you're selling exclusive content on one platform, you won't be able to sell it on other platforms. The more platforms you can cover, the more money you will make.
Some of the best sites to use to do this include:
OnlyFans' mission is to give artists a place to develop and share valuable, premium content that they can't get anyplace else. Fans pay to gain access to the unique material when creators set their page free or paid. While artists can register accounts for free, when they make money on the network, OnlyFans only pays out 80% of their revenue, retaining 20% as a fee.
OnlyFans determines the minimum and maximum fees for subscriptions. The lowest monthly membership fee is $4.99, while the highest monthly subscription price is $49.99. Creators may also put up tips or paid private messaging. Paid tips and private messages may help increase their profits and engage followers.
Other sites that use the same business model as OnlyFans are:
But not everyone is willing to put the time and effort into building a following. Some just want to earn a quick buck by selling their photos, without the commitment other platforms require.
Good news, there is something for you as well!
Sellfies.com is an adult picture selling service. Women can sell new and old private pictures and receive multiple payments, depending on how many pictures they upload and how explicit they are.
You can upload a maximum of 14 pictures. A full picture set earns you a generous one-time payment you can receive by selling nudes and other photos to Sellfies.
And because Sellfies does not work with subscribers, there are absolutely no social media followers needed! Everyone can start making some extra money in a fast and secure way.
No subscribers or followers? How does it work then?
Once you sell your images to Sellfies, you agree to their use of your imagery and release the rights to them. Meaning they will own your content from that point on. The pictures you sold can then be used on (adult) entertainment platforms.
So your sold pictures can be used online, but will not be publicly available. And even then, your name and other details are not used. This guarantees your anonymity, making sure your picture won't suddenly pop up in Image Search in your name for example.
How to get started
Here is a quick overview on selling your pictures to Sellfies:
Easy 3-step signup process
Choose to upload basic normal and sexy pictures, or more explicit ones
Receive a one-time payment as compensation
Your choice to remain 100% anonymous
Secure payments to a payout method of your choice
The signup process is easy and straightforward: create your account and verify your ID, upload pictures and receive your payment.
Conclusion
You need to up your game in terms of marketing and operations. You need to take your nude sales as a real business establishment if you want it to be good and make you a good amount of money. You should also utilize the major social media platforms to gain a following to benefit your growth. Finally, be consistent. These tips would increase the average amount of money you make.
It would be best to use the top sites with the highest number of creators and consumers to solidify your place in the industry. Follow these steps and watch your profiles grow astronomically!
Or take the easy route and sell your photos to Sellfies for a quick income boost!